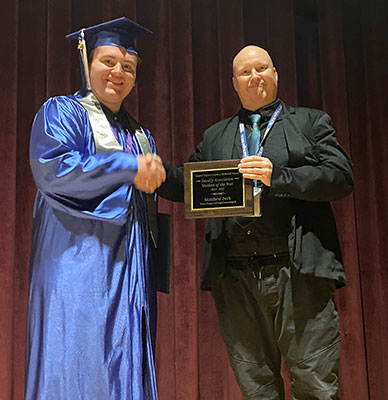 Congratulations to BKW's Matthew Peck for being named Outstanding Student of the Year at the Capital Region BOCES Center for Advanced Technology (CAT) Campus, where he completed the Game Design and Implementation Program.
Matthew was presented with the honor during a June 7 Capital Region BOCES awards and graduation ceremony. (He's pictured receiving the award from Ken Bevan, a teacher at Capital Region BOCES.)
He plans to work and eventually attend the game design program at SUNY Schenectady Community College and aspires to a career developing and animating video games. He has already developed one game–Rust Punk–that he created with classmates.
"I really enjoy 3D modelling and making visuals come to life," Matthew said. He praised BOCES for giving him the skills he needs to succeed in life. "I have always really liked video games and have been curious as to how to create them, " he said. "Attending BOCES has taught me the skills I need to turn my interests into a career."
Matthew was one of 36 students to graduate from the Game Design and Implementation program, offered through the Capital Region BOCES Career & Technical Education division.
Media coverage of Matthew's award: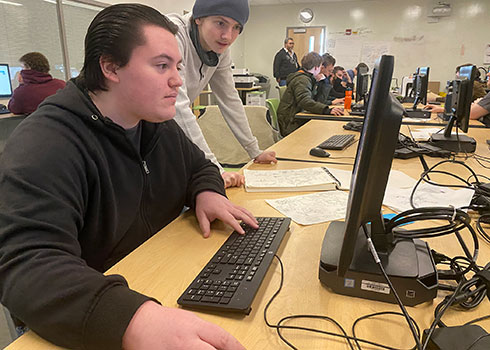 Matthew in class at the CAT, earlier this year