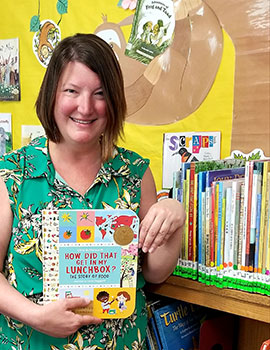 Summer is a time for learning and growing for many educators, including BKW Elementary's Katy Keyser, who has been awarded a competitive scholarship as a New York educator and will participate in the National Agriculture in the Classroom 2022 Conference from June 28 to July 1, in Saratoga Springs.
Keyser, a literacy specialist and English language arts teacher, will join with several hundred teachers and agricultural education leaders from across the U.S. at the summer conference.
In her award letter, Cornell's College of Agriculture and Life Sciences told Keyser, "Your enthusiasm in teaching through agriculture was apparent in your application, and we are pleased to offer you the opportunity to attend this exceptional professional development conference [that includes] learning from and networking with over 600 teachers from across the country, listening to keynote speakers, and touring food and farming culture in New York."
"I applied for the National Agriculture in the Classroom scholarship for the first time last year, and it's very competitive, so when I won this year, I was over the moon excited!" said Keyser. "I wrote to the scholarship committee about our efforts to expose children to agriculture, farms and food, including using an agriculture and farming awareness and education grant last school year to purchase agriculture-centered books for our elementary library.
"Thanks to that grant, BKW Elementary students can now enjoy reading books about John Deere, flower farming, dairy life, horse keeping, cacao and more."
The books have been the focus of AgriSTEAM lessons (Agriculture, Science, Technology, Engineering, Art and Math) and Agricultural Literacy Week activities at the school, and they are a hit with students and teachers alike. Yet when Keyser first went to catalog and shelve the books, she discovered there was no special spine label to designate their agricultural subject matter. So she tapped into her creative side to design and produce one herself, with help from teaching assistant Charise Crounse.
"Now when a student wants to find a book about farming, farm animals or other such agricultural subjects, they just look for the green spine sticker with the tractor on it," Keyser said.
Keyser had been working closely with BKW FFA advisors and teachers Michaela Kehrer and Sarah McArdle. "I've always been interested in bringing agriculture into literacy and learning in school," said Keyser. "We want children to understand that food comes from everywhere and to open up their world through books, activities and experiences."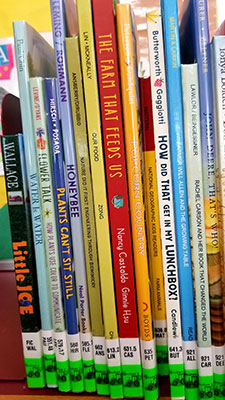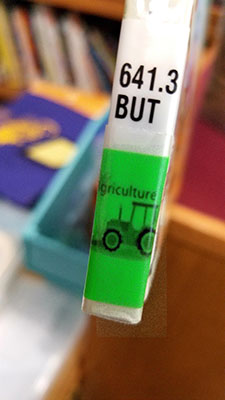 At BKW, AgriSTEAM – Agriculture, Science, Technology, Engineering, Art and Math – is part of education for students in all grades. BKW Elementary offers an Ag Pals Club for students in grades 3-5, and the district has FFA chapters for students in grades 6-8 and 9-12.