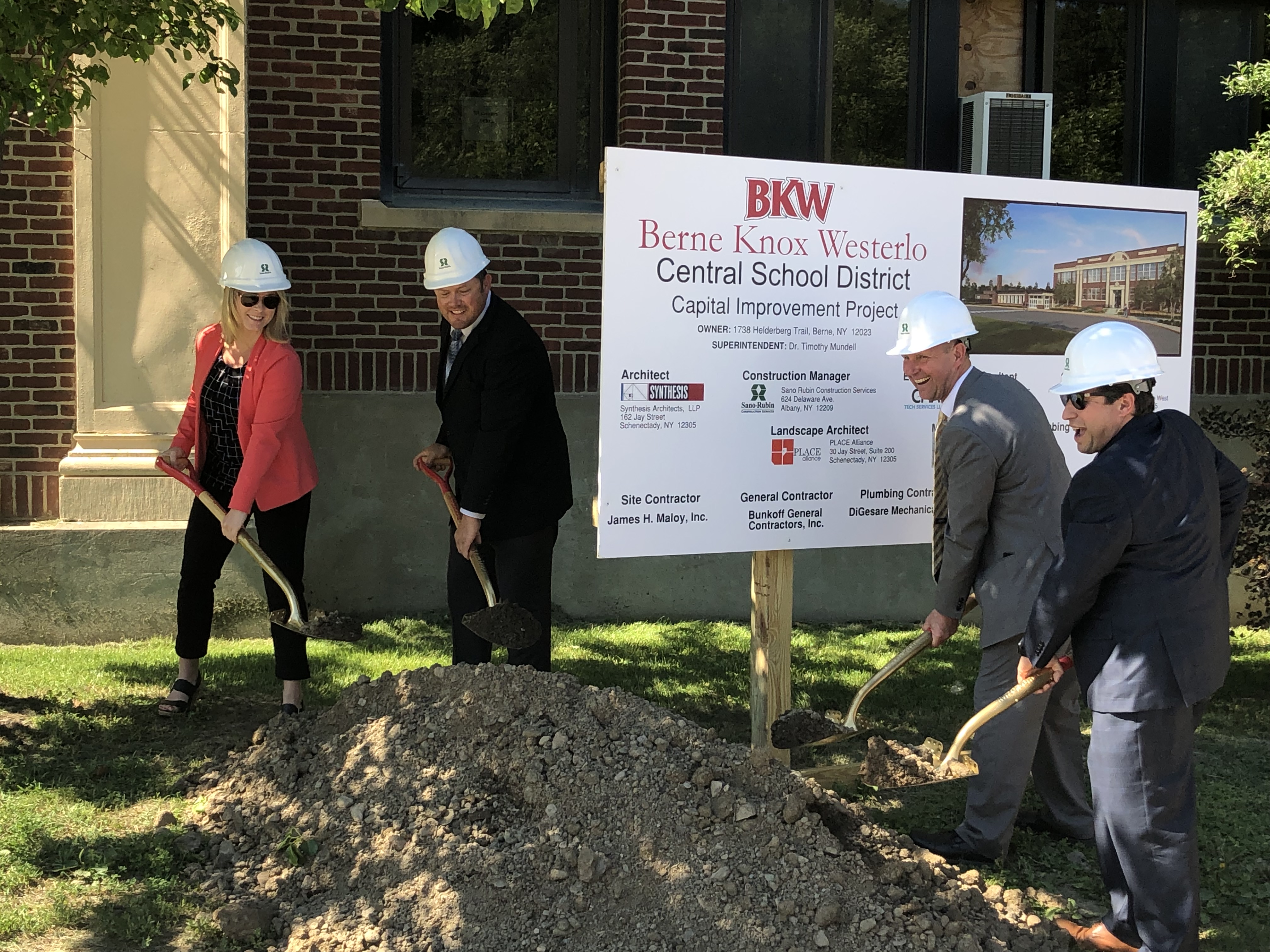 The BKW Central Schools community held a groundbreaking event today to ceremonially kick off the start of the district's $19.8 capital improvement project for repair and modernization of the elementary and secondary schools.
The capital project was approved by district voters in November 2017, and plans received final approval by the New York State Education Department in March 2019.
Construction is now underway in the secondary school. Please note that parking will be limited on the school campus over the summer months.
"This is an exciting day for all of us," Superintendent Dr. Timothy Mundell told a group of district staff, the Board of Education, construction team and community members. "'We are giving our kids what they need for their future and that's what this project has always been about."
Joining Dr. Mundell to stick the first shovels in the ground outside the Elementary School were Board of Education President Matthew Tedeschi, Vice President Nathan Elble and board member Kimberly Lovell.
Tedeschi and the others thanked the community for supporting the project, saying it will "leap frog us forward and take us farther than we could have ever imagined. I'm simply excited for the kids," he said.
Getting to this point has been a real team effort, Dr. Mundell added, and "significant for all of us because it marks a new beginning. At the end of this we are all going to raise our hands and say we did it together," he said.
The construction process
The first steps of construction calls for moving the secondary guidance offices, the nurse's office, and the main office to the front of the building along Rt. 443 and creating a secure entry from the parking lot. Contractors will then:
Expand the current lobby to safely accommodate large groups,
Convert the current main office area into a wireless laptop computer lab,
Convert the current guidance office into an Agricultural Science Center,
Completely wire the entire building with the latest technology infrastructure to accommodate digital learning and community access, and
Transform the current parking lot between the two buildings into a safe, traffic-free courtyard for learning and social space.
In the elementary school, contractors will complete asbestos abatement by September. Work then begins renovating classrooms. That work will be done in phases, renovating blocks of six rooms at time. As each section is complete, we will move students into those classrooms, freeing up the next area for renovation. To free up that space for construction, we will temporarily house sixth grade students at the secondary school for the 2019-20 school year.
To ensure student and staff safety, temporary walls will isolate work zones, preventing anyone from mistakenly entering the area. Contractors will only work 3:30-11 p.m. to avoid disrupting our young scholars.
In addition to classroom upgrades, the elementary cafeteria will be modified to double as a space for meetings, complete with technology and sound systems. New high-efficiency hot water furnaces and piping will economically heat the building. Energy efficient windows will lower energy costs. Masonry repairs will protect and preserve the building's historic architecture, a building our community views with great pride. And finally, site work will redesign bus traffic flow and create a separate visitor lot which will improve student safety, especially at arrival and dismissal times.
All construction is scheduled for completion by September, 2020.