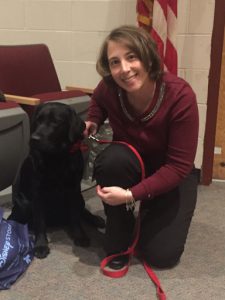 Students are about to em-"bark" on a wonderful journey at the Secondary School.
This month, Maggie, a ten-month-old black Labrador retriever, will begin her career as a therapy dog at BKW. Maggie is currently taking weekly classes with other therapy dogs and next year will take a test in order to become a certified therapy dog.
Maggie will join our school psychologist, Dr. Katrina Emmerich, two to three days a week in her counseling sessions. She will help students work on goals related to self-esteem, emotional regulation, friendship, and attention. She will also visit some classes to help with stress reduction during testing, reading aloud, or writing essays. When not in a counseling session, Maggie may be seen around school in the hallways, at assemblies, or even walking students to the bus.
Student participation with Maggie will be based on their comfort level. Parents are encouraged to let their sons and daughters know that they are allowed to approach the dog. Just remember to follow these simple, but important rules:
Never run at the dog
Ask to pet the dog
Do not scream or yell when you see the dog
Follow the requests of the adult in charge of the dog
In addition, there are several rules that Maggie and Dr. Emmerich have to follow at school to ensure that all of our students and staff feel safe. Different protocols for concerns about allergies and aversion to dogs have been put into place. Reach out to Dr. Emmerich about these protocols, or if you have any questions about Maggie or her role at BKW, at (518) 872-5171 or KEmmerich@bkwschools.org.
"Maggie is going to help our students overcome the stresses that can sometimes get in the way of social and academic growth," says Dr. Emmerich. "We're very excited to have a new 'staff member' to help BKW's students. We hope you are too."