Michelle Ferraino named valedictorian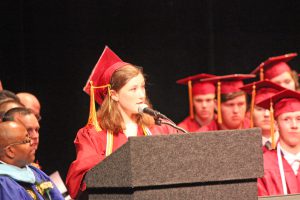 Michelle Ferraino will attend Fulton-Montgomery Community College In the fall, after earning the top academic spot in the Class of 2017.
Michelle says that BKW holds a special place in her heart.
"I'm going to miss so much about this school. I'll miss my friends, my teachers – the whole BKW family," said Ferraino. "BKW is such a unique community itself, it's just so hard to imagine leaving."
Among the many awards Michelle has earned is the Wyatt Spencer Memorial Scholarship, presented in memory of J. Wyatt Spencer, member of the Class of 2014 to members of the senior class who are actively committed to one extracurricular activity. The scholarship also recognizes that Michelle exhibited strong leadership abilities, was a community-minded citizen and demonstrated a stance against bullying during her time at BKW.
Liam Hanley named salutatorian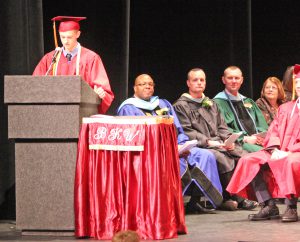 Liam Hanley will attend the SUNY College of Environmental Science and Forestry in the fall.
Liam says he will miss his friends and teachers.
"I'm going to miss my friends and all of the good times we had. All of the teachers here are really great," he said. "Just the overall experience of going to BKW has been great for me."
Environmental stewardship is very important to Liam, who was awarded the Osterhout Family Memorial Scholarship by the Warners Lake Improvement Association in honor of the Osterhout family, to a senior "in pursuit of a college degree in environmental studies and the preservation of the earth and its resources." In addition to other awards Liam also earned the Santabarbara Scholarship for Engineering, presented to a senior majoring in engineering and attending a university/college that has been accredited by the Engineering Accreditation Commission of the Accreditation Board for Engineering and Technology.
Please visit our Facebook page for more photos from graduation.