A team of BKW students has again won second place in the state in the high school division of  the Top Cut Beef Contest, this year for their Sweet & Savory Beef Bowl recipe and marketing plan. BKW's team will receive a $100 prize and banner from the competition, which is presented annually by New York Agriculture in the Classroom and the New York Beef Council.
BKW's team also won second place in last year's Top Cut Beef Contest.
"A special thank you to teacher Jill Daviero and her marketing class for their work on the marketing plan, her student Kim Howland who created the recipe, and food services director and chef Lateef Clark for presenting to the classes, cooking for them and giving advice on recipe development," said BKW Secondary School teacher and FFA advisor Michaela Kehrer.
Chef Clark added, "A salute to both classes for doing such a wonderful job. Although we came in second to a modern classic dish goulash, every minute of it was fun. We'll take another run at it next year!"
"Congratulations to all of the students involved in this project and to Ms. Kehrer, Ms. Daviero and Chef Clark for the role you played in this accomplishment," said Secondary School Principal Dr. Mark Pitterson.
"Congratulations to everyone who had a hand in this accomplishment," said BKW Superintendent Dr. Timothy Mundell. "To see the food services director working with our introduction to business and ag science classes, teaching kids about food sources and food preparation to have them compete successfully, is really awesome. This is the kind of integrated approach that makes school real for kids. Keep it up! You're doing great work."
Sixty-seven entries were received this year from students in grades 3-12 from across New York State. With a theme of Cafeteria Takeover, students were challenged to develop a beef-centered recipe that could be served in their school cafeteria and work with their school's food service professionals on procuring, preparing and developing a nutritionally balanced dish. They also had to develop a marketing plan and materials to promote their recipe. 
Entries were judged by a panel of beef producers and industry experts on the product, market analysis, marketing plan and beef nutrition analysis. 
According to New York Agriculture in the Classroom, "This experiential learning contest allows students to creatively develop a marketing strategy for a product of their choice, while learning about the multitude of agricultural careers and skills it takes to develop and sell a product. Students will also learn about beef production and beef nutrition as a result of participation."
New York Agriculture in the Classroom is a partnership of Cornell University, the New York State Department of Agriculture and Markets, New York State Education Department, Cornell Cooperative Extension, and New York Farm Bureau.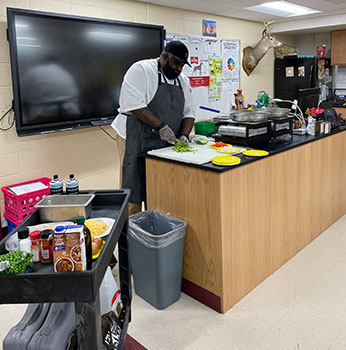 Chef Clark in the classroom