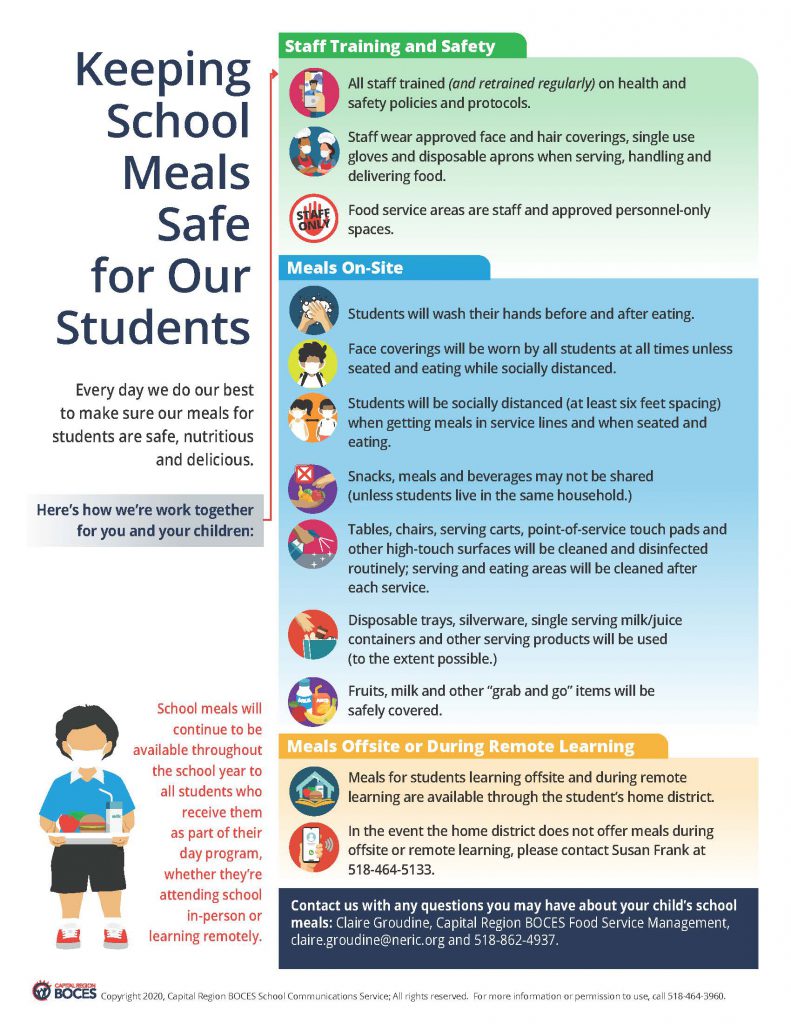 Federal government extends free school meals program
As part of an effort to ensure children access to meals during the pandemic, the United States Department of Agriculture (USDA) announced the extension of a waiver to provide meals to all children at no charge through June 31, 2021. To receive a meal at no cost, students need to take the complete reimbursable meal (e.g. entree, fruit, vegetable, milk).
Students who wish to purchase snacks or beverages must have money in their K-12 Payment Center account.
It is still important for families who believe they may qualify for the Free and Reduced Price Meals Program to submit an application to document their needs. Children from households that meet federal income guidelines are eligible for free meals or reduced price meals.  Students who qualify for free and reduced price lunch also qualify for free and reduced price breakfast. To apply, complete the application linked to this website. 
Elementary School Menu | Secondary School Menu
Meal Information
Meal Costs
Elementary/Middle/High School Breakfast — $1.70
Elementary School Lunch — $2.80
Middle/High School Lunch — $2.90
Extra Milk – $50 cents
Farm to School
The BKW Food Services department is striving to provide students with more fresh fruits and vegetables. Our goal is to expose students to more fresh and local produce, as well as educate students about where their food comes from. We will be incorporating a number of locally produced and grown New York State foods throughout our menus.
School Prohibition Against Lunch Shaming Plan
BKW Schools does not engage in practices that would draw attention to any student who does not have lunch money or whose parents have not paid lunch account balances. Read the plan.
School Meal Payment Options
As of fall 2020, the Berne-Knox-Westerlo CSD uses the online K-12 Payment Center that allows parents to pre-pay for school lunches and manage their child's account online. K-12 Payment Center allows parents to:
Make payments for meals online securely using your credit card
Have more than one child in the district? You can deposit money into multiple accounts with just one payment
You get quick and easy access to your child's account 24 hours a day, seven days a week
The ability to:
o    See 120 calendar days of meal purchases and payments (free)
o    Check your child's meal account balance (free)
o    Get low meal account balance alerts by e-mail and text (free)
To access the online service, visit https://www.k12paymentcenter.com/. From this site you can create your account and add money to your child's school meal account.
Parents who choose not take advantage of the online payment service may continue to make advance payments via cash or check. Checks should be payable to, "BKW Meal Program." Please send in payments in an envelope with the child's full name written on front.
Free and Reduced Price Meals Program
Children of families who meet certain income eligibility guidelines may qualify for the Free and Reduced Price Meals program. Families can apply at any time for this confidential program, which provides meals at no cost for qualifying students.* Links to the free and reduced price meals application, information about the program and eligibility requirements are provided below.
As of fall 2020: You can apply online for your student to receive free or reduced price school meals on LunchApplication.com. Your application will be sent from a secure website directly to Berne-Knox-Westerlo, so you don't need to worry about filling out a paper form that could be lost or misplaced. LunchApplication.com. is an easy, secure and convenient way to apply for free or reduced meals. To apply, simply go to https://www.lunchapplication.com/ and click "Apply Now."
*As of July 1, 2019, students approved for reduced price meals receive breakfast and lunch meals at no charge, with New York State is covering the cost previously paid by the student. To see if you qualify, please download, print, fill out and mail in the free/reduced application below:
If you have questions or would like assistance with an application please contact Susan Frank, BOCES Shared Food Service Program Specialist,  at (518) 464-5133. Fax (518) 862-4903.
Parent letter and income eligibility chart
The letter below provides details about the Free and Reduced Price Meals program and a chart listing income levels according to household size and income received either yearly, monthly or weekly. If your total household income is the same or less than the amounts on the income chart below,  your children may be eligible to receive free or reduced price meals.
Food Intolerance & Allergies
If your student has a food allergy or intolerance, please let us know right away. We will need a doctor's note. Call the school nurse at (518) 872-2030 for a "Diet Prescription" form.
Birthday Baskets (Pre-K through Grade 6)
The BKW elementary cafeteria offers Birthday Baskets that can be delivered to your student's classroom. It's affordable and convenient for you and fun and healthy choices for the student's special day. Birthday Basketball Order Forms will be sent home the month of your student's birthday.
Elementary School Lunch Menu
May 26
Mozzarella Sticks w/Marinara
Fresh Vegetable & Fruit
Fruit of the Day
NYS Milk
May 27
Ham & Cheese on pretzel roll
NYS Potato Chips
Fresh Veggie & Dip
Fruit of the Day
NYS Milk
May 28
School Closed
May 31
School Closed – Memorial Day
June 1
Maple Waffles
Sausage
Hash Brown
Apple
NYS Milk
June 2
Chicken Quesadilla Wrap
Fresh Vegetable & Dip
Fruit of the Day
NYS Milk
June 3
Cheeseburger
NYS Potato Chips
Fresh Veggie & Dip
Fruit of the Day
NYS Milk
June 4
Cheese Pizza
NYS Grape Slushie
Fresh Veggie & Dip
NYS Milk
June 7
Chicken Nuggets
Fries
Carrot Sticks & Dip
NYS Grape Juice
NYS Milk
June 8
Maple Pancakes
Sausage
Home Fries
Fresh Orange Smiles
NYS Milk
June 9
Taco Wrap
Taco Meat, Shredded Cheese
Salsa & Sour Cream
Fresh Vegetable & Dip
Fruit of the Day
NYS Milk
June 10
Chicken Pattie Sandwich
Corn
Fruit of the Day
NYS Milk
June 11
Cheese Pizza
Fresh Vegetable & Dip
NYS Grape Slushie
NYS Milk
June 14
Chicken Nuggets
Tater Tots
Carrots & Dip
NYS Grape
June 15
French Toast Sticks
Sausage
Hash Brown
Apple
NYS Milk
June 16
Chicken & Gravy w /Mash Potatoes
Fresh Vegetable & Dip
Fruit of the Day
NYS Milk
June 17
NYS Beef Hot Dogs
Sun Chips
Carrot Sticks & Dip
Fruit of the Day
NYS Milk
June 18
Cheese Pizza
NYS Grape Slushie
Fresh Veggie & Dip
NYS Milk
June 21
Chef's Choice
June 22
Chef's Choice
June 23
Chef's Choice
June 24
Chef's Choice
June 25
Chef's Choice
Everyday Breakfast
All Breakfasts include 100% Juice/ Fruit & Milk for $1.70
One entrée: Sausage Egg & Cheese & Egg & Cheese M,F or Cereal & Graham Crackers, Pancakes T, W, TH, or Fruits: 100% Orange & Apple Juice, Fruit of the Day
Daily Offerings
Sandwich of the Day
We feature LOCAL fruit and vegetables
Milk: 1%,  skim, 1% chocolate
Secondary School Lunch Menu
May 26
Tacos (hard shell)
Turkey Taco Meat, Shredded Cheese
Salsa
Corn and Black Beans
Craisins
NYS Milk
May 27
Grilled Cheese
NYS Potato Chips
Fresh Veggie & Hummus
Fruit of the Day
NYS Milk
May 28
School Closed
May 31
School Closed – Memorial Day
June 1
Pancake
Sausage
Hash Brown
Apple
NYS Milk
June 2
Loaded Nachos
Turkey Taco Meat, Nacho Cheese
Salsa
Sweet Corn
Fresh Orange Slices
NYS Milk
June 3
Cheeseburger
NYS Potato Chips
Fresh Veggie & Hummus
Fresh Strawberries
NYS Milk
June 4
Cheese Pizza
NYS Grape Juice
Fresh Veggie &
June 7
Crispy Chicken Sandwich
Fries
Carrot Sticks & Dip
Fruit of the Day
NYS Milk
June 8
Chicken & Waffles
Maple Syrup
Home Fries
Fresh Orange
June 9
Tacos
Turkey Taco Meat, Shredded Cheese
Salsa & Sour Cream
Sweet Corn & Black Beans
Fruit of the
June 10
Pasta with Meatballs
Broccoli
Garlic Breadstick
Fresh Pear
NYS Milk
June 11
Cheese Pizza
Apple Slices
Caesar Salad
NYS Milk
June 14
Chicken Tenders
Fries
Cucumber Slices & Dip
Fruit of the Day
NYS Milk
June 15
French Toast Sticks
Turkey Sausage
Hash Brown
Apple
NYS Milk
June 16
Loaded Nachos
Turkey Taco Meat, Nacho Cheese
Salsa
Sweet Corn & Black Beans
Fruit of the Day
NYS Milk
June 17
Grilled Cheese
Sun Chips
Carrot Sticks & Dip
Fruit of the Day
NYS Milk
June 18
Cheese Pizza
NYS Grape Slushie
Fresh Veggie
June 21
Chef's Choice
June 22
Chef's Choice
June 23
Chef's Choice
June 24
Chef's Choice
June 25
Chef's Choice
Everyday Breakfast
All Breakfasts include 100% Juice/ Fruit & Milk for $1.70
Breakfast Sandwich or Sandwich of the Day, Cereal & Graham Crackers, Fruits: 100% Orange & Apple Juice, Fruit of the Day, Beverages: Milk- 1% milk, 1% chocolate milk
Daily Offerings
Sandwich of the Day
We feature LOCAL fruit and vegetables
Milk: 1%,  skim, 1% chocolate
USDA Non-Discrimination Statement