BKW Secondary School is proud to announce its top students of the Class of 2019. Named class Valedictorian is Nicole Carr, 18, of Berne. The class Salutatorian is Adrianna Fahd, 18, of East Berne. The two will graduate with their classmates at 2019 commencement ceremonies on Saturday, June 29, at the Egg in Albany.
Nicole Carr – Valedictorian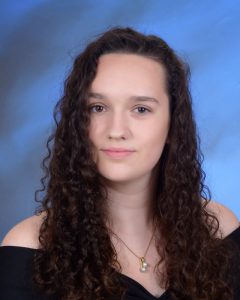 Nicole Carr will attend Alfred State College of Technology – State University of New York on a full academic scholarship in the fall and major in Digital Media Animation. Her dream job would be to work for the Disney Corp someday.
Nicole describes herself as someone who "tries to do her best all of the time" and has a "special relationship" with her teachers, BKW staff and her friends.
"What I like about BKW is it's a tight community where everybody knows everybody," Nicole says. "You walk down the halls and people always say 'Hi' and call you by name. You feel comfortable here. I mean, it's a fun place to come to school every day."
While she's worked hard over the years toward academic success, Nicole credits her parents for guiding her in the right direction. "My parents always told me that education is the most important thing in life, and to take advantage of what the school system has to offer you," she says. "You have to do as much as you can with what you are given in life."
Her brother, Michael Wilson, was a member of the BKW Class of 2012, and her younger brother, Aaron, is graduating from eighth grade this year, advancing to the high school in 2019.
Nicole has been very active at BKW as a member of the National Honor Society, National Junior Honor Society, and as a student tutor. She has completed six Advanced Placement courses in U.S. History, World History, Calculus, Chemistry, Literature and Spanish. She also helped organize the Masterminds Teachers Tournament and the elementary school Halloween Party.
She is a member of Band and Marching Band, the BKW Theatre Troupe stage crew, SADD (Students Against Destructive Behavior), and the Students Serving Society group. She has volunteered at the Berne Public Library, Switzkill Farm (Earth Day and Winterfest), and for Hospice, Adopt a Soldier and sending Christmas cards to nursing home residents. She is employed at the Carey Institute of Global Good in Rensselaerville, NY.
Adrianna Fahd – Salutatorian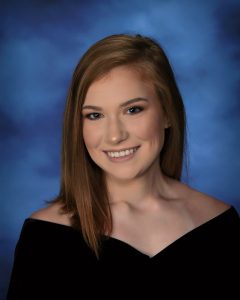 Adrianna Fahd will attend Siena College in the fall and major in Health Studies. Her goal is to pursue a career as a Physician's Assistant.
Adrianna describes herself as a "caring, honest, dedicated" individual who has real passion for what she is interested in. This includes a general love of biology, medicine and the study of human life. That passion grew after she enrolled in the BOCES New Visions Health Careers Program through the Capital Region Career & Tech Center. There she got an opportunity to work one-on-one with area health professional at a top-notch hospital like St. Peter's in Albany.
"It was truly an eye opening experience to see what the future could be like for me as a career," Adrianna says. "It's real life! You're right there with the patient and you realize that could be you as a medical professional one day making the calls."
Her most memorable experience was working in the St. Peter's Emergency Room where things are "fast moving," she says, and she witnessed a potential drug overdose among other things. "There are very serious situations there," Adrianna says. "It's not a joke."
She also attended multiple presentations at St. Peter's as part of the New Visions program and presented on her experiences to the BKW Board of Education.
Adrianna credits her parents and the BKW teachers and staff for guiding her and her sister, Ashley, a high school freshman, in the right direction.
"They are all continually pushing us to do our best," she says, "and they provide you with what you need to succeed. I love the close-knit community we have here and that's one of the reasons I chose Siena College to continue my education."
Adriana is a member of the National Honor Society, Student Senate, Students Serving Society group, Yearbook Club, Helderberg Ambulance Squad, Girls Scouts of America, BKW Varsity and JV Volleyball, and the BKW Theatre Troupe taking on multiple lead roles in school musicals. She received the 2019 Top Scholar Award and a Scholarship for Academic Excellence from the New York State Board of Regents.