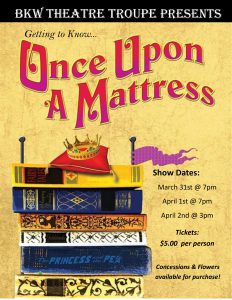 During the weekend of March 31 to April 2, the BKW Theatre Troupe will be performing their featured Spring 2023 musical production of "Once Upon a Mattress," which is based on a book by Jay Thompson, Dean Fuller, and Marshall Barer. Tickets are $5.00 to attend.
Tickets can be purchased at the door for each performance. Contact Dana Higgins at dana.higgins@bkwschools.org for more information.
Below are the dates and times for this year's production:
Friday, March 31 at 7 p.m.
Saturday, April 1 at 7 p.m.
Sunday, April 2 at 3 p.m.