BKW's FFA chapter has once again been awarded $5,000 through the National FFA Grants for Growing program. Sponsored by Tractor Supply Company, the program provides grant funds to local FFA chapters to support the development or improvement of agricultural education projects that enhance the classroom experiences for students through chapter engagement activities.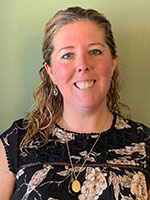 In addition, BKW FFA advisor and teacher Michaela Kehrer has been honored as Outstanding Agriculture Educator for the FFA Region VI National Association of Agriculture Educators. She is now one of six finalists from across the U.S. for the National Outstanding Agriculture Educator Award.
BKW's FFA chapter was one of just 10 chapters in New York State to be awarded a National FFA Grants for Growing grant. The chapter will use the funds during the 2021-22 school year to purchase life-size, fiberglass models of a cow, horse and pig, along with supplies needed to paint and support the structures. Students in the school's animal science courses will research, design and paint the internal organs of each species on one half of the model, and on the other side, they will paint the correct coloration and marking patterns of a given breed standard.
The completed models will be used in several of the animal agriculture courses at BKW, as well as during the annual BKW FFA Ag Day and at the Altamont Fair.
Students enrolled in BKW's animal science and small animal care courses are eligible to earn SUNY Cobleskill College in the High School credit upon their successful completion of the course(s).
The BKW community has a long, strong and proud agricultural history. BKW students in grades 9-12 are eligible to become senior FFA chapter members, while students in 6-8 may become junior FFA chapter members. FFA members focus on learning, leading, serving and personal development through hands-on activities and chapter events at school, in the community and with fellow FFA members from near and far. At BKW, AgriSTEAM – Agriculture, Science, Technology, Engineering, Art and Math – is part of education for students in all grades.
The National FFA Grants for Growing program has provided approximately $548,000 to FFA chapters in 47 states. Funds are raised through consumer donations during checkout at a Tractor Supply Company stores, through the purchase of a $1 FFA paper emblem. The fundraising period aligns with National FFA Week in February.
The National FFA Organization provides leadership, personal growth and career success training through agricultural education to more than 700,000 student members who belong to one of the more than 8,600 local FFA chapters throughout the U.S. and Puerto Rico. The organization is also supported by more than eight million alumni and other supporters throughout the nation.