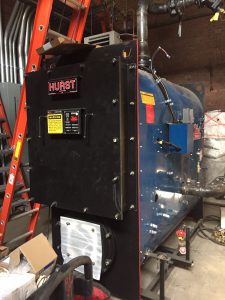 A cold and snowy day at BKW … what better time to update the school community on the ongoing capital project and needed upgrades to the Elementary School's aging heating and ventilation systems?
The boilers and steam heating system in the Elementary School were installed more than 60 years ago, so it goes without saying that it's not the most efficient or reliable way to heat your children's classrooms. Construction crews have been busy after school hours installing a new heating system and making improvements to the elementary learning spaces.
An important part of that work has focused on maintain proper air temperatures at the school during the construction phase. Temperatures in the construction spaces have been maintained at working levels, while space heaters are being used in the classrooms as a temporary heat supply until the new system installation is complete. We anticipate returning to those rooms in early December. The new entrance to the high school is also taking shape.
The capital project was approved by district voters in November 2017. Work is scheduled for completion in fall 2020.