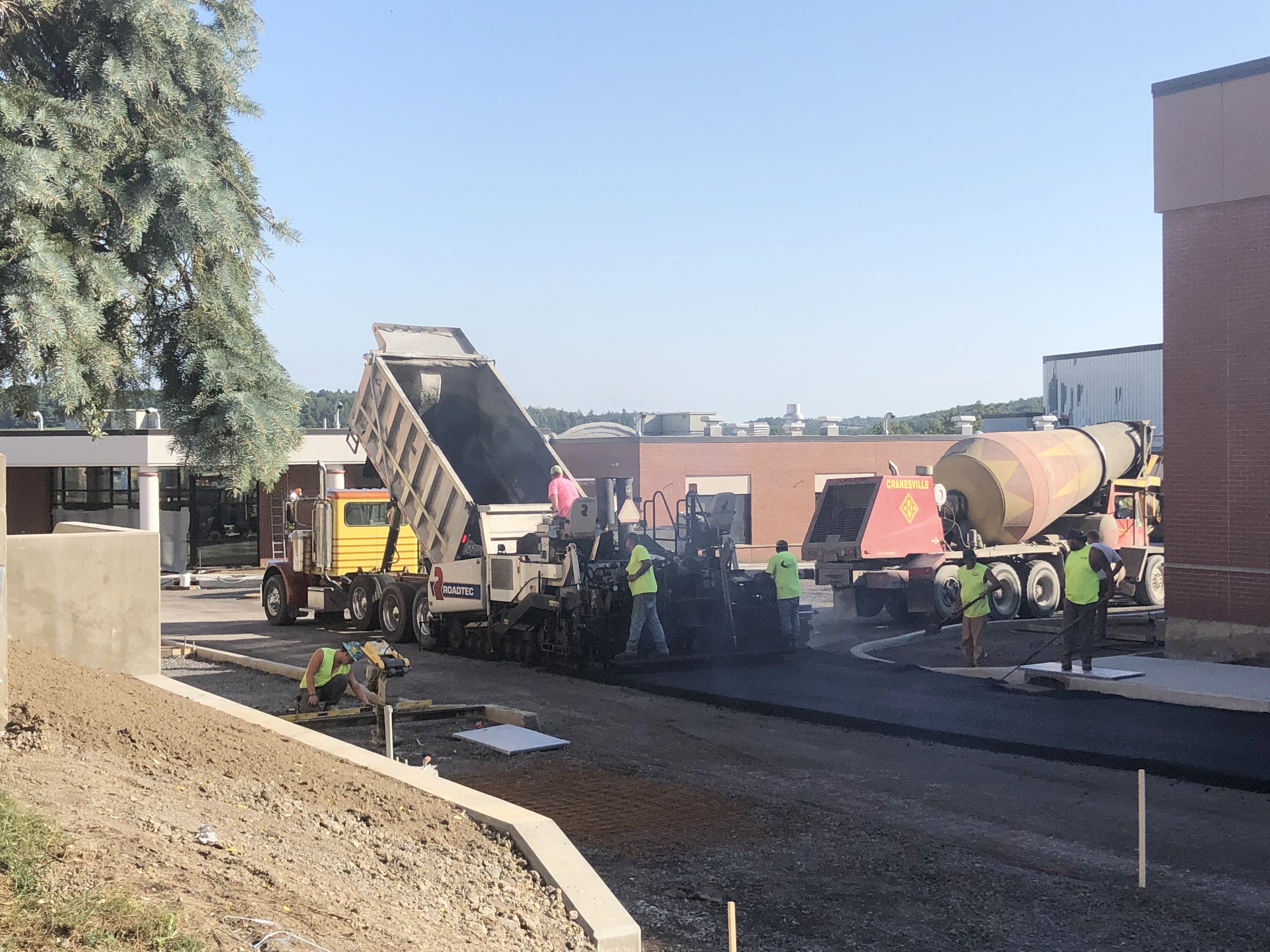 Work continues on the district's capital project to repair, upgrade and modernize the Elementary and Secondary schools. As BKW prepares for the start of a new school year, the top priority remains ensuring the safety and security of all who learn, work and visit our schools.
The district's general construction contractor has made us aware of temporary conditions that, while not impacting the opening or daily operation of school, will still exist on campus this fall. The following is an update on project items to be addressed during the coming months.
Site Work / Exterior Areas
Parking areas are being paved with a base layer; the finished top layer will be installed next summer so all lots are uniform.
All water will not drain into storm water catch basins while the project continues. This will be monitored and addressed as needed during the winter months.
The transition between the Secondary and Elementary school lots is temporary for this school year. The pavement grade will be lowered as part of bus loop and visitor lot work scheduled for summer 2020.
Work continues on seat walls, light poles and bollard lights.
Temporary metal stair railings will be installed and replaced by permanent railings in the future.
Landscaping work continues.
Auditorium / Gym Lobby
The new vestibule is temporarily closed off as work continues in this area.
A temporary partition is set up to allow completion of the addition's exterior walls and woodwork.
Work continues on ceiling mounted heating units.
Flooring will be installed and finished following the completion of the exterior curved wall.
Second Floor
A unit ventilator for the online learning room 230A will be installed when delivered, scheduled for October.
The exterior wall of the break-out room is temporarily closed until windows are received and installed, scheduled for September.
Wall finishing will be completed once windows are installed.
New Laptop Lab and Flex Space
Acoustical (sound-mitigating) blades have been ordered.
Flooring will be finished this fall.
Temporary exterior and interior windows will be installed and replaced with new, permanent windows in the future.
Main Office
Work continues on the exterior windows.
The existing entrance vestibule doors will remain until new doors can be installed.
A temporary short wall and reception counter will be installed.
According to the district's general contractor, BKW's capital project is progressing as typical of most school construction projects. As planned, work is being done outside of regular school hours so as not to disrupt student learning.
The capital project was approved by district voters in November 2017, and plans received final approval by the New York State Education Department in March 2019. Work is scheduled for completion in fall 2020. For more information, visit the BKW Facilities Improvements webpage,