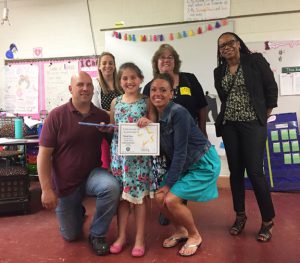 Congratulations to third grader Sadie Poole for winning 3rd place in an art contest hosted by the Albany County Department for Children, Youth and Families!
Sadie's drawing depicted her family and pets, and conveyed the love she feels when she's with them.
"I like to draw in my spare time and it was very exciting to win this award," she said.
Everyone in the county office building votes on the student-submitted artwork and the winning pictures are made into a calendar.
"It's very uplifting to see all the artwork hanging in the county building," said Lillian Smith, director of staff development and community programs for Albany County. "It's like our own student art gallery."
Moira Manning, deputy commissioner of the county's Department for Children Youth and Families, presented Sadie with her award, a $20 gift certificate, and books for Sadie and her classmates in Mrs. Malone's room.
"We're very proud of Sadie," she said. "She's an amazing young artist."