Some of Berne-Knox-Westerlo's oldest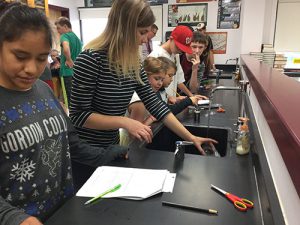 and youngest students teamed up in the name of science this week.
Third grade students visited the high school Living Environment labs Wednesday and Thursday this week and helped out high school students with their slug lab.
Students collected data, set up a second trial of their experiment, and also discussed the 3rd graders' own caterpillar observations from the elementary building.
These pictures are from Mr. Dergosits and Ms. Griggs' 3rd grade classes visiting Mrs. O'Connor's Living Environment Lab class.